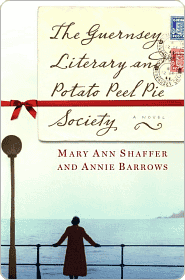 This was one of my local book club selections. Not a book that I would have normally picked up, since I don't really go for WWII era novels, but I'm glad I did!
The book is written entirely in letters, to and from the main character, a writer named Juliet. It took a while to get used to the format, but after that I fell in love with all the characters, and there were a lot of charcters! It was a bit hard to keep them all straight.
It's not a big book, and it's an easy read, but there's just so much going on! There's the historical angle of the occupation of the island of Gurnsey by the Nazis. There's a romance between Juliet and a persistent suitor. There's a mystery or two. There's the process of an author writing a book. Some of it is a bit improbable and contrived, but it's still fun.
I suppose my only complaint is that maybe it was a little too light. I wanted to know more about subjects that were touched on, such as how the islanders sent their kids away during the war. And some of the references to authors and novels had me completely lost (who the heck is Charles Lamb?).
This is one that I'm happy to pass along! Just let me know if you're interested!