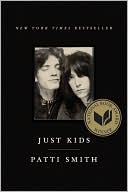 So, the first book I decided to read this year was
Just Kids
by Patti Smith. In spite of my love of 70's & 80's punk/alternative rock, I never quite understood the reverence musicians had for Patti Smith. "Because the Night" and "Dancing Barefoot" was pretty much all I knew about her.
Just Kids focuses on the early years and Patti's development as an artist and her extraordinary relationship with photographer Robert Mapplethorpe. I wasn't sure what to expect, since I wasn't familiar with either artist's work.
I was really engaged with the book. Watching these two grow as artists and all the sacrifices and self-discoveries they made was fascinating. I've always admired artists, but had no idea what makes them tick, and it was a great insight.
There were a few classic rock 'n' roll encounters, but they are just in passing. There were quite a few literary and musical references that I didn't understand, though. And I thought the ending felt a bit rushed. But overall, Patti Smith really has a gift with words and storytelling. I'll probably give her music another listen as well!
This one's on my Kindle.