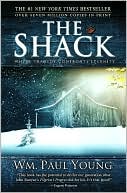 Throwing another "God" book into the mix here, the much talked about
The Shack
by Wm. Paul Young.
It's about a man, Mack, whose young daughter was abducted and murdered by a serial killer. Several years later he finds a note supposedly from God, asking to meet him at the shack where evidence of his daughter's murder was recovered.
When he arrives at the shack, Mack has an experience with God. Whether it was an actual experience or a dream or whatever is up to the reader. Mack meets God, who appears as the Holy Trinity in three rather unexpected forms. During his time with God, Mack expresses his anger at God for the loss of his daughter as God tries to explain to him why bad things happen and how to forgive.
In spite of the presence of The Father, The Son and the Holy Spirit, I didn't find the book to be overly Christian, just intensely spiritual. It certainly packs an emotional punch and I found myself in tears of sadness and joy several times.
Mack certainly has reason to be angry at God, and I'm not quite sure I buy into God's explanation for it all, or even if it's God's explanation or rather the author's explanation. That's a question for theologians.
It's not a very long book and worth the read. Perhaps some will find comfort in it.
This one's on my Kindle.